Our School
Welcome to Creswick Primary and Nursery School where we have a wonderful learning environment. Our motto,' Learning for Life,' is very important to us as we wish to ensure our children develop a true love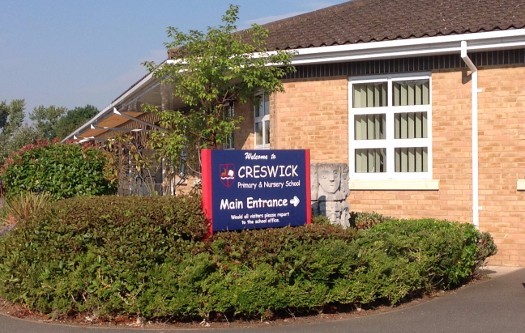 of learning which they will take with them through their lives.
We moved to our current site in 2004 which is a spacious, modern building with extensive grounds. We have a large hall, the studio (which accommodates some PE and music), an ICT suite and well stocked library. Our grounds include a gated pond, nature trail, trim trail and a large field area.
We completed an expansion of the school in August 2012 which allows us to take two forms of entry. This is very smart and complements the rest of the school. It is finished to a high standard and provides excellent classrooms and spaces for our KS2 children to be taught in.
Currently we only have two forms of entry from Nursery to Year 5. Our expansion to two forms of entry will be gradual with a new class each year until we are full.

We have a Children's Centre and private Pre-school sharing our grounds which enables us to form good relationships with families early on.
We hope this website answers any questions you may have about the school. If not, please do not hesitate to contact us.
Paper Copies
If any parent requests paper copies of any information on our school website, we will provide this free of charge.