Attendance
Medical Absence
Hospital appointments or emergency doctor, dentist or opticians.
Please provide the office with a copy of the hospital letter etc. This is the responsibility of the parent/carer and, in some cases, without the letter the session will be marked as unauthorised.
Other Absence
Funerals, visits to another school or parent appointments.
If you feel there are exceptional circumstances please also email our Attendance Officer after submitting the form with any extra information.
Email our Attendance Officer - attendanceofficer@creswick.herts.sch.uk
All other non-urgent/routine appointments should be made out of school hours.
Not all requests are authorised by the school.

It has been well researched that children who attend school regularly and arrive on time achieve better outcomes. At Creswick we monitor attendance closely. We have a duty to make sure children on our roll are safe and well and have a policy in place to support us to do that. We understand that sometimes absence cannot be helped. Children can and do become poorly and there are times when the best place for a child is resting at home. We advise an absence of 48 hours for things like stomach bugs so children can recover properly and to reduce the risk of illness spreading around the school community.
The government says 'Good' attendance for children is 96% and above. If attendance slips below 90% the child is deemed a persistent absentee. At that point the local authority attendance team may become involved and where attendance doesn't improve, there is a legal process to follow that may result in fines for parents/carers and the possibility of a conviction if fines are not paid. We do not want to be at that stage with any Creswick families and would like to make it clear that when this process is followed, the school does not receive any fines paid.
At Creswick we aim for all our children to be HEROs!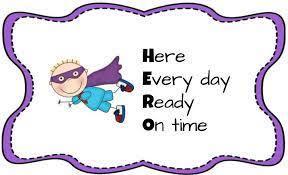 Every school day is split in to two sessions, am and pm. Each is counted with an attendance mark.

If your child is late arriving at school their morning session is marked with a 'U' code. This denotes an unauthorised late absence.

If a child reaches 15 or more unauthorised absences in one or two terms (either through absence or lateness) action may be taken by the local authority.

Attendance is monitored daily and rigorous analysis of all attendance records is undertaken at the end of each half term.

If your child is unwell please call us and leave a message on the dedicated answerphone as early as you can. If we do not hear from you we will:
Text you

Call you

Text/call all those on your emergency contact list

If we cannot make contact we may visit your home to make sure everyone is safe

If we cannot make contact with you at home we may call the police to conduct a welfare check to make sure everyone is safe
Please do speak to us if you are finding attendance and punctuality tricky. We will support however we can.